It was the autumn of 2008, and the senior players for the Belgian professional soccer team KRC Genk weren't paying much attention to the 17-year-old with the crop of ginger hair as he quietly prepared to train with them for the first time.
Once they stepped on to the training pitch, though, he became hard to ignore.
Yet to even make his debut in the first team, the kid began to openly criticise and bark instructions at the adults around him. "Hey, come on! You need to run more. You need to move into that space for my pass," he complained. "Please, let's be better."
The Genk players were stunned. This was supposed to be a casual five-a-side game. There was nothing at stake and nothing to get too worked up about. They couldn't believe the kid's cheek.
"This didn't matter to Kevin De Bruyne," explains former Genk captain David Hubert, recalling the scene. "Because he always wanted perfection. And he didn't care who he had to shout at to get it.
"It was a shock, because this kid was moaning at us, telling us we weren't playing well and demanding we did what he told us! But do you know what? We actually respected him for it. He was right, and we admired he had the confidence to ask for better. The feeling was, Come on, let's not let down the young guy."
The more time these senior players spent with De Bruyne, the more they appreciated how high he was setting the bar—how he saw the game in a different way than the rest of them.
"He got frustrated as he saw things other players didn't," Hubert recalls. "He would then give them the solutions and tell them to make certain runs so they were in the right position.
"Kevin was not just talk. He was doing it on the pitch. He was speaking with his feet and his mouth. We were soon in awe of him."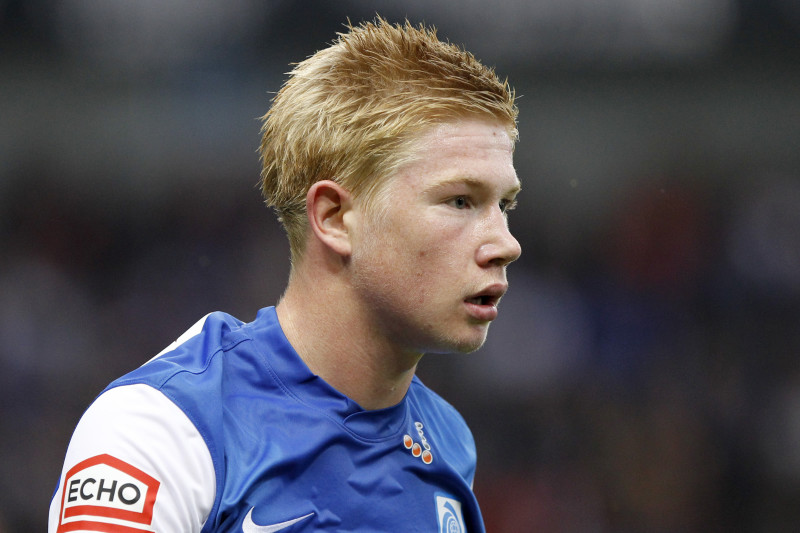 A young Kevin De Bruyne in action for GenkEuroFootball/Getty Images
Nearly a decade later, Hubert, who now plays for Oud-Heverlee Leuven in Belgium, affords himself a wry smile each time he watches De Bruyne on the television playing for Manchester City.
"I can still see that same kid from years ago," he says. But now De Bruyne is moaning at David Silva or Sergio Aguero.
"He just always wants to get the best from others."
It's part of what's turned that cheeky 17-year-old into one of the best players in the world.
The Belgian midfielder's innate desire to win and lift the performances of all those around him has been the inspiration behind Manchester City's winning the Premier League this season with a side already hailed as one of the finest in English football history.
De Bruyne has contributed eight goals and a league-high 15 assists, and the fluidity and technical brilliance with which he swoops forward to launch City attacks has become the symbol of coach Pep Guardiola's successful grand project at the Etihad Stadium.
Guardiola has even been moved to declare that only former protege Lionel Messi is a better player than De Bruyne and that the Belgian could soon be in a position to win the Ballon d'Or himself.
"Kevin is one of the best players I have ever seen in my life," Guardiola said this season, as reported in The Independent. "He is a top, top quality player. We are so happy he is with us."
---
De Bruyne began his ascent to the summit of world football at age six, playing with his local club in the Ghent suburb of Drongen, in north Belgium.
A Liverpool fan who idolised Michael Owen, he would play whenever he could, in the local park or in his back garden.
By the time he was eight, he was showing early glimpses of his characteristic drive and single-mindedness, deciding the training was not good enough at KVV Drongen and asking to move to KAA Gent, the Belgian First Division A team based in Ghent. The coaches at Gent recall a supremely talented, ambitious and stubborn boy who simply detested the thought of losing.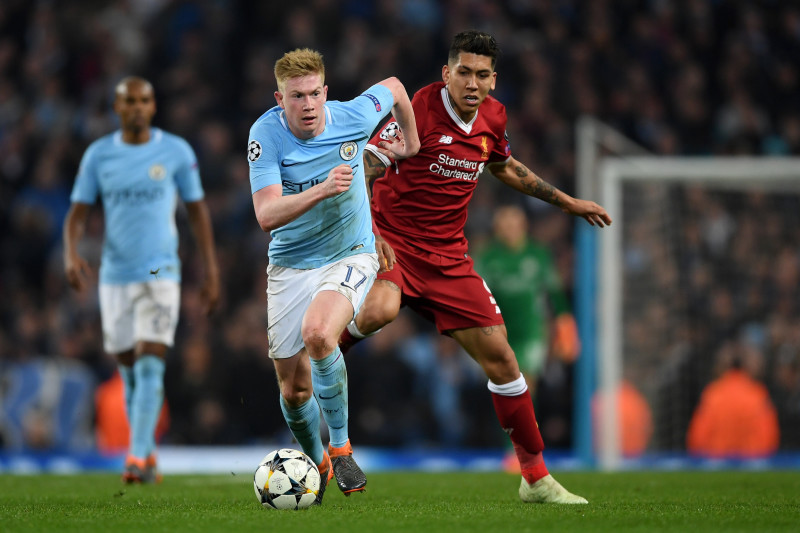 De Bruyne grew up a Liverpool fan who worshipped Michael OwenShaun Botterill/Getty Images
Always looking to make the next step up, at 14 De Bruyne transferred to KRC Genk, a First Division A team that was becoming increasingly known for its ability to nurture young players, which have included Christian Benteke, Steven Defour, Thibaut Courtois and Yannick Carrasco.
Joining Genk meant moving 100 miles across Belgium and swapping a comfortable home life with his parents for living with a host family, but it was a sacrifice he believed he needed to make.
After famously commanding the respect of his new, older teammates in that first training session, he made his professional debut at only 17 in a 3-0 defeat to Charleroi in May 2009. The following season, he became a central figure on the first team, playing 40 games.
"He was the complete package," Hubert recalls. "He had technique, but the thing that really stood out was his drive and spirit, even at that very young age."
Genk had only won the Belgian title twice before in their history before De Bruyne's arrival. He promptly helped lead them to a third in the 2010-11 season, finishing ahead of Standard Liege and Anderlecht in the playoff table.
"He was so important to us," Hubert says. "A sophisticated player who always made himself available and wanted the ball. He was our playmaker, playing on the left in a 4-4-2. He was like a false No. 10 who would come inside and make things happen.
"The coaches just let him express himself. They didn't give him too much information, because he actually knew better than them!"
Inevitably, the sight of a 19-year-old leading his team to a title put clubs across Europe on alert, and a hat trick for Genk against Club Brugge in October 2011 only confirmed his immense potential.
"Kevin knew how good he was; you could tell that. And in his mind, he knew he could go to a higher level than Genk," Hubert says. "He began to outgrow Belgian football. He needed to be around better players, and so it was no surprise when he left us."
His destination would be Chelsea, which signed him to a five-and-a-half-year deal for £6.7 million in January 2012.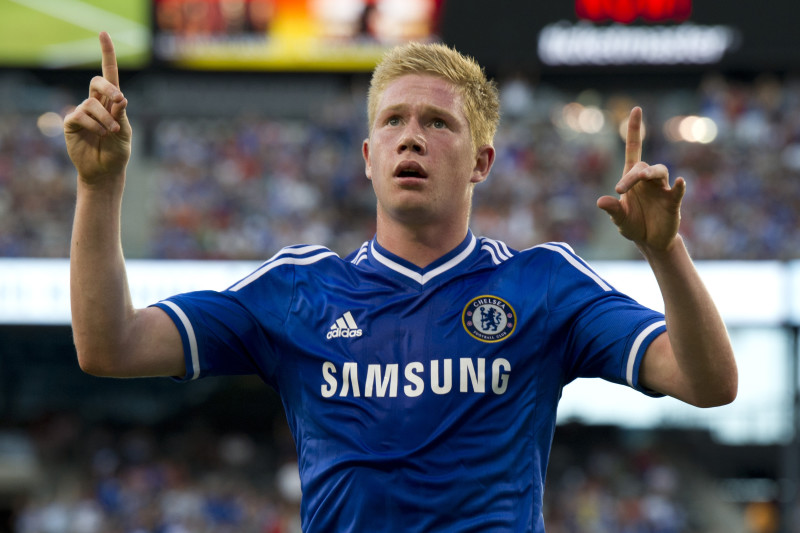 De Bruyne had limited chances at ChelseaDON EMMERT/Getty Images
The veteran Dutch scout Piet de Visser, who had previously brought the Brazilian greats Romario and Ronaldo to European football, had been following De Bruyne for the previous year and recommended in the strongest terms to Chelsea that they should sign him.
"One of the best players I've scouted," de Visser wrote in his book, Master Scout. "… Even then he had a great technique and at the same time outline. I had rarely seen such a thing. He was an attacking midfielder with a superb first touch and immediately moved the game, made openings. He was for me an instant revelation."
De Visser encountered a surprising lack of interest from Chelsea's scouting department in his new discovery, but the Dutchman knew other clubs were quickly closing in.
"I had to take action, I plucked up courage and took a tape to the big boss of Chelsea, Roman Abramovich. Roman is a true football fan, who wants to not only win, but also wants to see good football. He looked at that tape, said nothing, but went straight to call the scout team, saying 'that De Bruyne has to come.' If the big boss looks down at you, then that is of course a fantastic entry."
After signing with Chelsea, De Bruyne was loaned back to Genk for the rest of the season, and when he returned to Stamford Bridge that summer, he was moved out again on a season-long loan to Werder Bremen.
De Bruyne did not think this was necessary; he was convinced he could compete for a first-team place at Chelsea, but he understood the benefit of playing a full season in the Bundesliga.
While Werder Bremen had a difficult season, De Bruyne thrived in Germany, helping himself to 10 goals in 33 league appearances and winning the league's award for Young Player of the Year.
"As soon as he arrived, it was like, 'Wow, he's unbelievable,'" says then-teammate and current Werder captain Zlatko Junuzovic. "He was a quiet and serious character, but on the pitch with every action, he impressed."
Under coach Thomas Schaaf, Werder finished 14th—just three points above the relegation zone. Junuzovic says there's no doubt De Bruyne is the reason they survived.
"We stayed in the league because of Kevin," he says. "At the start, he was better in training [than in games]. He needed a bit of time, but then he improved a lot—and made the difference.
"He wanted to prove to Chelsea they should have him back. The Bundesliga is a big league, and here he could show he was a special player. When I saw him, I couldn't believe they had let him go."
---
At the end of this breakout season in the Bundesliga, Borussia Dortmund coach Jurgen Klopp offered De Bruyne the opportunity to stay in Germany on a permanent basis.
De Bruyne was seriously tempted by the chance to play for Klopp, but Chelsea did not entertain the bid at all and ordered him back to Stamford Bridge, where he found a new occupant in the manager's office: Jose Mourinho.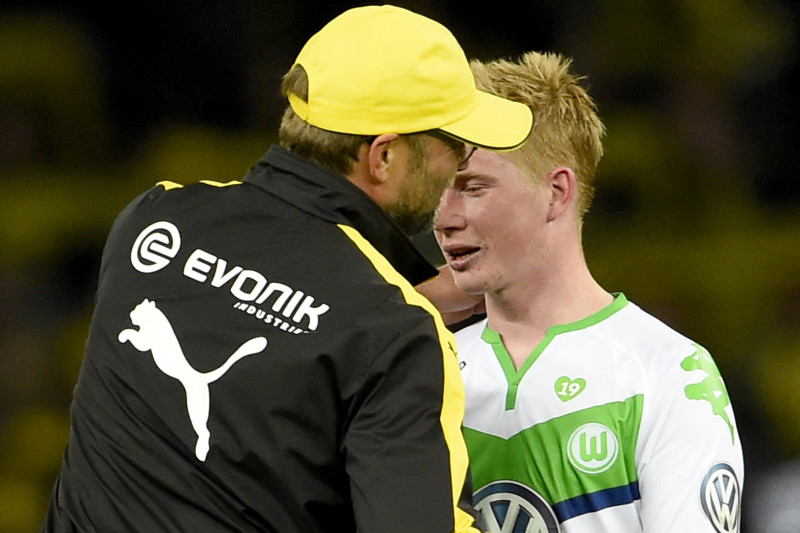 Jurgen Klopp wanted to sign De Bruyne for DortmundTOBIAS SCHWARZ/Getty Images
"He convinced me to stay, although there was a nice offer on the table from Dortmund," De Bruyne wrote in his autobiography, Keep It Simple. "Mourinho said he believed in me and that I would get opportunities in pre-season and during the year. He didn't want me to stay for the cup games only, but told me I would also feature in the Premier League. I have to admit I barely challenged him. I accepted his decision. I told him I would try to show what I was capable of."
In the first game of the new Premier League season, Mourinho was true to his word by handing De Bruyne a start against Hull City. The Belgian responded with a Man of the Match performance and an assist for Oscar's goal in a 2-0 win at Stamford Bridge.
This was how it was meant to be. He was quickly proving himself, and a season of steady progress lay ahead of him. But to his dismay, he watched the entire next match, away at Aston Villa, from the bench. He was back in for the following game, against Manchester United, but turned in an underwhelming performance and never started for Chelsea in the Premier League again.
Just days after the Manchester United game, Chelsea signed another midfielder, Willian, for £30 million and shortly after that forced De Bruyne to suffer the indignity of being denied a place on the bench for a European Super Cup game against Bayern Munich.
From a starter to the stands in the span of a week: De Bruyne was crushed and already consumed by regret at returning to Chelsea.
"Staying at Chelsea is the only career choice I have taken without following my gut feeling," he wrote in Keep It Simple. "And as you've seen, it didn't turn out the way we wanted. If I could have to change one decision in my life, it might be that one. I would push that move to Dortmund through."
During the next four months, De Bruyne would play fewer than 300 minutes for Chelsea and only one full game, restricted to a diet of the dreaded League Cup and brief substitute appearances in the Champions League and Premier League.
In late September, Mourinho gave him a start against Swindon Town in the League Cup but was not impressed at his work rate and impact on the game, and he pulled him in the second half.
When asked about De Bruyne's continued absence, Mourinho was dismissive, declaring that he had to understand Chelsea was "not Werder Bremen" and then, as reported by the BBC, in a press conference: "He's not selected because I didn't like the match he played against Swindon and I didn't like the way he was training."
Mourinho believed he had better players than De Bruyne and had neither the time nor interest to indulge the young Belgian.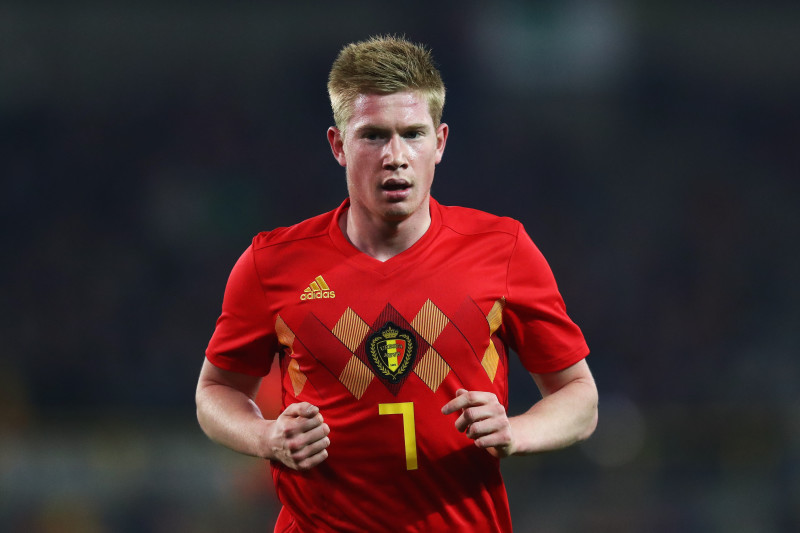 De Bruyne and Belgium are among the World Cup favouritesDean Mouhtaropoulos/Getty Images
Sensing De Bruyne's growing frustration, Mourinho invited him to a meeting in his office with his other attacking midfielders, Juan Mata, Eden Hazard, Andre Schurrle, Willian and Oscar, to show and compare their key statistics for the season: assists, goals, key passes, dribbles and passing percentage.
"He wanted to prove I didn't perform on the level of the others," De Bruyne told the Telegraph in 2016. "I simply answered him: 'Sorry, that's not logical. I've played less games than the others. How can you compare me to the others?' That was just not fair in my eyes."
De Bruyne didn't want to be shown cold statistics; he wanted someone to believe in him. He now accepted he had no future at Chelsea. He wanted out, and he wanted a new start somewhere else quickly. No more loans, no more treading water.
Mourinho did not especially want to sell De Bruyne, even if he had doubts about his ability to fight for his place at Chelsea, later branding him "an upset kid," but the Belgian had lost his joy for the game and pleaded to be let go.
In January 2014, Wolfsburg came to his rescue, and a bid of £18 million was enough to take him back to the Bundesliga.
---
Former Wolfsburg coach Dieter Hecking, now at Borussia Monchengladbach, recalls De Bruyne as he arrived in Germany in 2014.
He was far from the finished article.
"Everybody could see his great potential, but he had to work on his physical condition, because, coming from the Premier League, he wasn't used to the intensity of training we had in Wolfsburg," Hecking says. "But the team very quickly noticed that he was a player who could make the difference."
"I think he had lost a lot of confidence during his time at Chelsea and the way he was treated," recalls Timm Klose, who played with De Bruyne at Wolfsburg and is now at Norwich City.
"We all knew he was a good player from his time at Werder Bremen. His talent was never in doubt, but I just think he needed to regain his confidence and find a stage to play on."
Back in the Bundesliga, De Bruyne was imbued with a renewed vigour during the second half of Wolfsburg's season.
"We became good friends, and that summer, I think he got an offer from Bayern Munich because Pep Guardiola loved him, but it was too soon," Klose says. "He just got to Wolfsburg, and he wanted to repay them."
De Bruyne would do just that during the 2014-15 season, emerging as the best player in Germany and driving Wolfsburg to a second-place finish in the table behind Guardiola's Bayern Munich and a German Cup triumph after he scored in a 3-1 win over Borussia Dortmund in the final.
"His passing game was sensational, and he became the most important player in our team," says Hecking.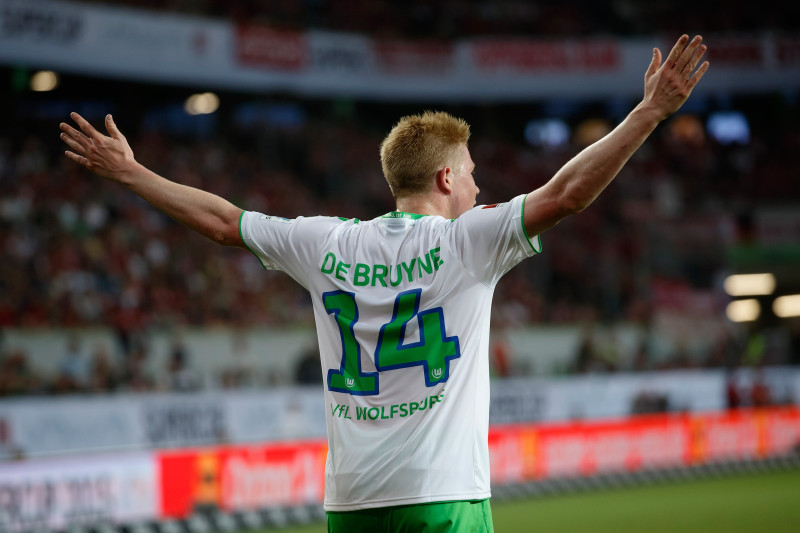 De Bruyne proved to be a sensation in the BundesligaBoris Streubel/Getty Images
De Bruyne finished the season with 10 goals and 21 assists and was voted by fellow players as the Footballer of the Year.
"It was all about his vision, and crucially he was now free on the pitch, because Dieter Hecking imposed no rules," Klose says. "He was in a cage at Chelsea, but now he was free. He was the amazing player in a good side."
And the ascent was only beginning.
"One day he came to me and said, 'I got an offer from Manchester City. What do you think?'" Klose recalls. "I told him, 'If it were me, I would swim there!'
"I was not surprised. It became obvious very quickly that he wouldn't be with us for too long."
In the summer of 2015, De Bruyne accepted City's offer and moved to the Etihad Stadium for £55 million, the second-most expensive transfer in British history.
There was surprise within some of the more insular corners of English football that City had paid so much for a player who had failed his first Premier League audition only two years earlier, but De Bruyne would soon quiet any doubts.
In his first season, under Manuel Pellegrini, he won the City player of the month award four times and scored 16 goals, helping City win the League Cup and a first-ever place in the Champions League semifinals and inspiring his manager to call him "the perfect player."
But the Chilean manager would only have this one season working with De Bruyne. He was replaced by the long-awaited Pep Guardiola in the summer of 2016.
Within the first few weeks of the season, Guardiola's influence on De Bruyne could be seen when he dominated Manchester United with such verve in a 2-1 win at Old Trafford.
It was a clinical performance by the Belgian and heralded the start of a brilliant relationship between player and manager. "Messi is on a table on his own. … But the table beside, Kevin can sit there," Guardiola told the BBC in September 2016.
In this first season working together, Guardiola moved De Bruyne around his formation, playing him in central midfield, on both wings, behind the striker and even at left wing-back as he sought the best position for his obvious talent.
Despite this flux, De Bruyne prospered, recording the most assists (18) in the Premier League and more than 100 chances, the second-most behind Christian Eriksen.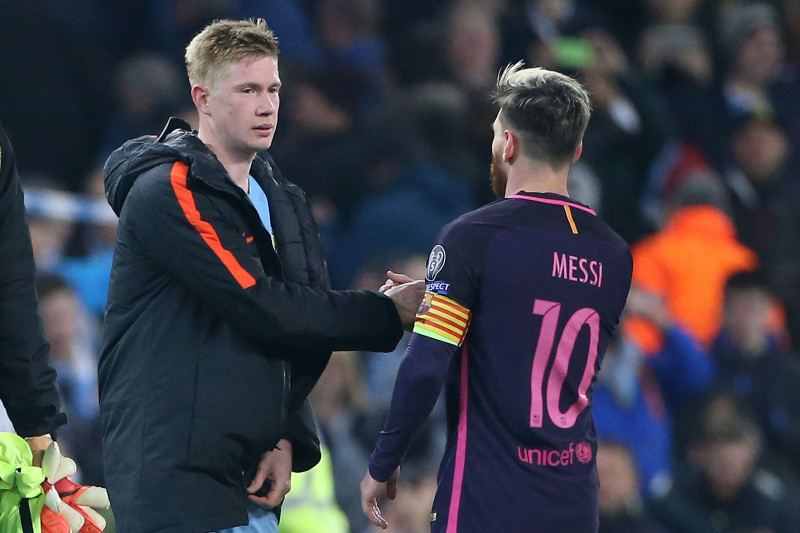 Pep Guardiola says De Bruyne is as good as anyone he has worked with not named MessiJean Catuffe/Getty Images
After all his tinkering, this season Guardiola settled on stationing De Bruyne in a deeper role in central midfield, sometimes referred to as a "free 8." He has emerged as this side's inspiration, dictating their tempo and acting almost as a quarterback who launches attacks with his vision and decisive and accurate passing.
Make a run, and De Bruyne will find you.
---
The experience of the last nine months is what De Bruyne has been working towards his whole career: to feel loved and trusted, and to play at the heart of a team that shares his talent and drive.
At the start of this season, he was voted into City's five-man senior players group, the conduit between squad and manager, by teammates who had come to respect his quiet influence and leadership skills.
De Bruyne has already played for nearly a decade but is still only 26 and not yet at his peak. The Ballon d'Or is a realistic aim for him in the post-Lionel Messi and Cristiano Ronaldo world that awaits. But first, there is the World Cup this summer in Russia.
Former teammates have always known the all-consuming ambition that lurks inside De Bruyne. He wants to be known for something bigger than domestic titles.
"If Kevin continues this form, then Belgium definitely has a chance to win the World Cup," Hubert says. "It will be difficult of course, but if you look at the quality of this squad, we have big expectations. It could be our time.
"There have already been comparisons with Messi and Ronaldo, but whereas they are both finishers, Kevin is a builder, and a great one.
"It has worked for him so far, and I think his best is still to come."