Chada the rescue bear is a critically endangered Himalayan Brown Bear, with only 300 members of the species estimated to be left in the wild.
A 24-year-old Ukrainian rescue bear named Chada has gone viral in recent days after a video clip of her emerging from a nap with some intense bedhead went viral.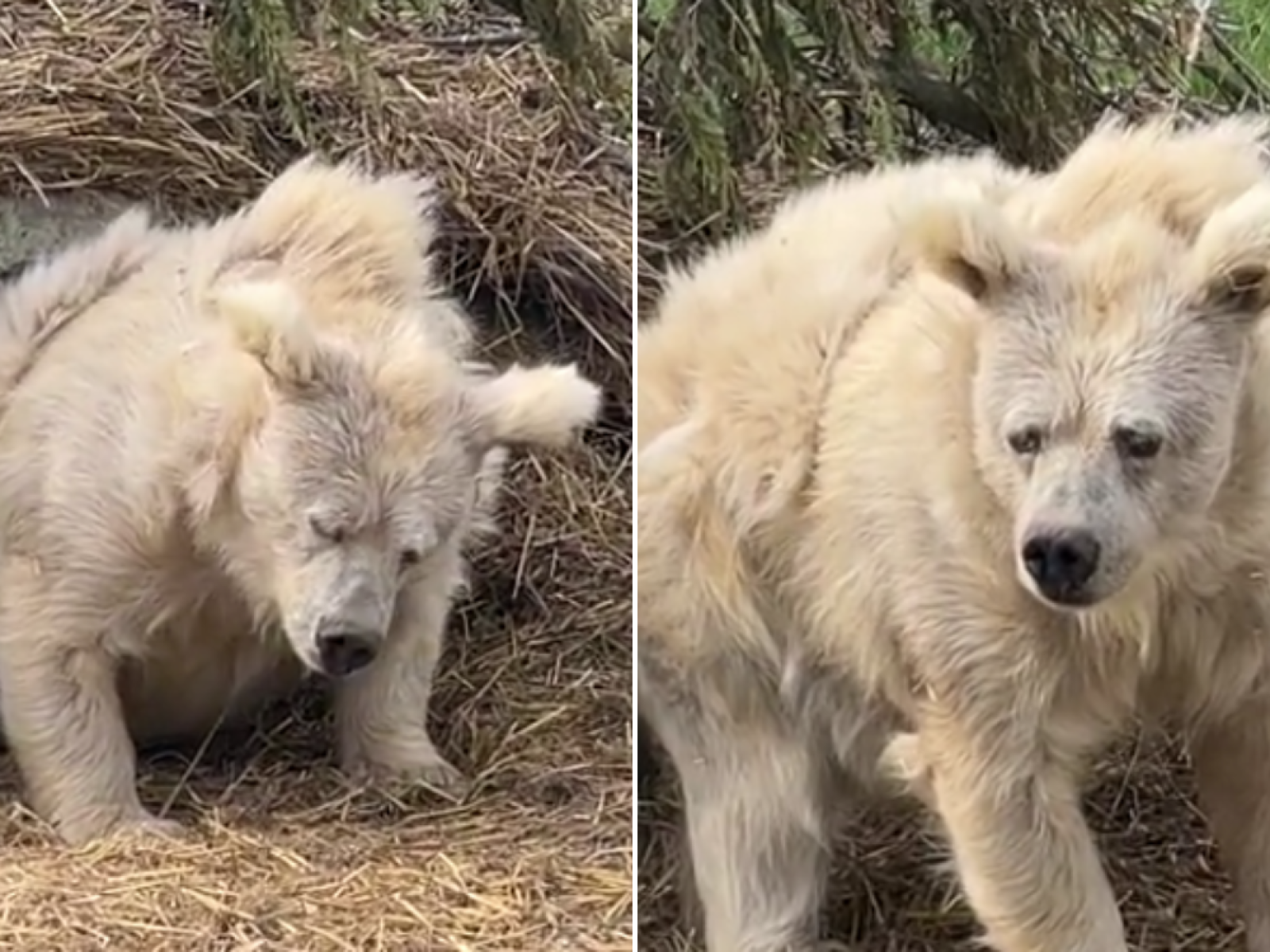 The Tien Shan (Himalayan) rescue bear warmed the hearts of some 1.6 million TikTok users with her sleepy attitude and seeming desire to return to sleep. 
The Himalayan bear is a critically endangered subspecies of the brown bear, and there are only some 300 left in the wild. 
Chada's tragic backstory
For her part, Chada arrived at the White Rock Bear Shelter in Ukraine in July 2019 after experiencing a lifetime of exploitation.
According to the shelter, Chada's parents were brought to the former Soviet Union after being captured in central Asia, and were used for entertainment in zoos and circuses. When Chada was born on Christmas Eve in 1998, the Ukrainian National Circus were quick to profit from her in the same way they did her parents, taking the then-bear cub on tour.

One of two Himalayan brown bears is seen in a crate before its departure to be relocated to Al Ma'Wa for Wildlife and Nature sanctuary in Jordan, at the Marghazar Zoo in Islamabad, Pakistan December 16, 2020. (credit: FOUR PAWS/Hristo Vladev/Handout via REUTERS)
Eventually, Chada's trainer sold her to a private collector for a traveling circus and when she was no longer of use t them, she was left in a small, rusted cage in an industrial zone in Kyiv, where she was trapped for 7 years before finally being rescued.
At the time of her rescue, there was no space available for her in a dedicated wildlife rescue, and so Chada was sent to a private menagerie.
However, while conditions there were better than any she'd ever experienced, her care was still insufficient and so the decision was made to surrender her to the White Rock Bear Shelter where she finally has her needs met.
Despite finally being in a good home, the years of abuse have taken a toll on Chada, who now suffers from poor eyesight and has lost most of her teeth.
However, the shelter reports that, in spite of a lifetime of trauma, Chada is doing well and has "a thirst for life."
White Rock Bear Shelter
White Rock Bear Shelter is home to four bears including Chada, as well as one Arctic Wolf named Javelina, or Jah.
While the bears were rescued from various parts of the entertainment industry, Jah was born in a menagerie in the Donetsk oblast in 2021. After Russia's invasion of Ukraine in early 2022, and while shells were falling on the menagerie, animal activists evacuated her from the region, and on September 6, 2022, she settled in White Rock Bear Shelter.
Despite being the only non-bear in the shelter, the rescue has stated that "Jah is not afraid of bears at all and loves to run with them, playing and communicating through the fence."
For those in the Kyiv Oblast region, Chada, Jah, and the shelter's other residents can all be visited during the shelter's scheduled hours and on organized tours.
Outside of the set hours, visiting the shelter is not allowed, as they state that they "do not put profit first and regulate the number of visitors on the territory so as not to expose the bears to unnecessary stress."
For people who aren't in the area but wish to support sleepy bear Chada and her friends, the shelter offers the option to "adopt" their residents for 35 USD, or roughly 129 NIS. Adopters will receive a certificate of adoption and a message thanking them on social media.
The endangered Himalayan bears
The critically endangered Himalayan bear is the largest bear species in its native regions of Pakistan, India, Nepal, the Tibetan Autonomous Region of China and Bhutan.
A male Himalayan bear can be anywhere between 1.5 to 2.2 meters tall, while females are usually between 1.37 to 1.83 meters tall.
The bears have a natural lifespan of 20-30 years in the wild and eat an omnivorous diet of plants, insects and small mammals.