Pep Guardiola fury with referee cannot hide major Man City issue reappearing
As the sun broke through at Old Trafford on Saturday lunchtime, the rain got heavier for Manchester City.
A Jack Grealish goal looked to have clinched City's tenth win in their last 15 games at Old Trafford, only for a hugely controversial refereeing decision see the Blues collapse to defeat against a United side that offered little until they went behind. A game that looked to be restoring City's brittle confidence instead saw them fold like a house of cards to make their task of defending their Premier League crown even tougher.
Action was required after the misery of the Southampton defeat, and while it came it was not enough to prevent a second successive loss.
With John Stones injured, this was arguably City's best team on paper and a very similar one to the XI that creamed United at the Etihad back in October. But football isn't played on paper, and anyone who has seen these players on grass any time recently would have raised at least one eyebrow at the team.
Joao Cancelo could consider himself very lucky to be in the team based on his form, Kyle Walker slightly fortunate to edge out Rico Lewis at right-back, while Phil Foden has been basically out of favour since the last derby. Guardiola spoke about a reset ahead of this game after the horror show at Southampton, and this felt like a return to experienced heads in a bid to regain the consistency and control that the team have lacked in recent weeks.
The message from the manager has been blunt: get in the game or get a new club. The response from the players was sound enough, with enough solidity in the team that you could tell from the start they were trying to play – unlike at Southampton.
Yet there were still too many misplaced passes, too little final threat in the final third, and an uncharacteristic lack of confidence in the team that made them vulnerable to a diligent United side; the balance felt very delicate.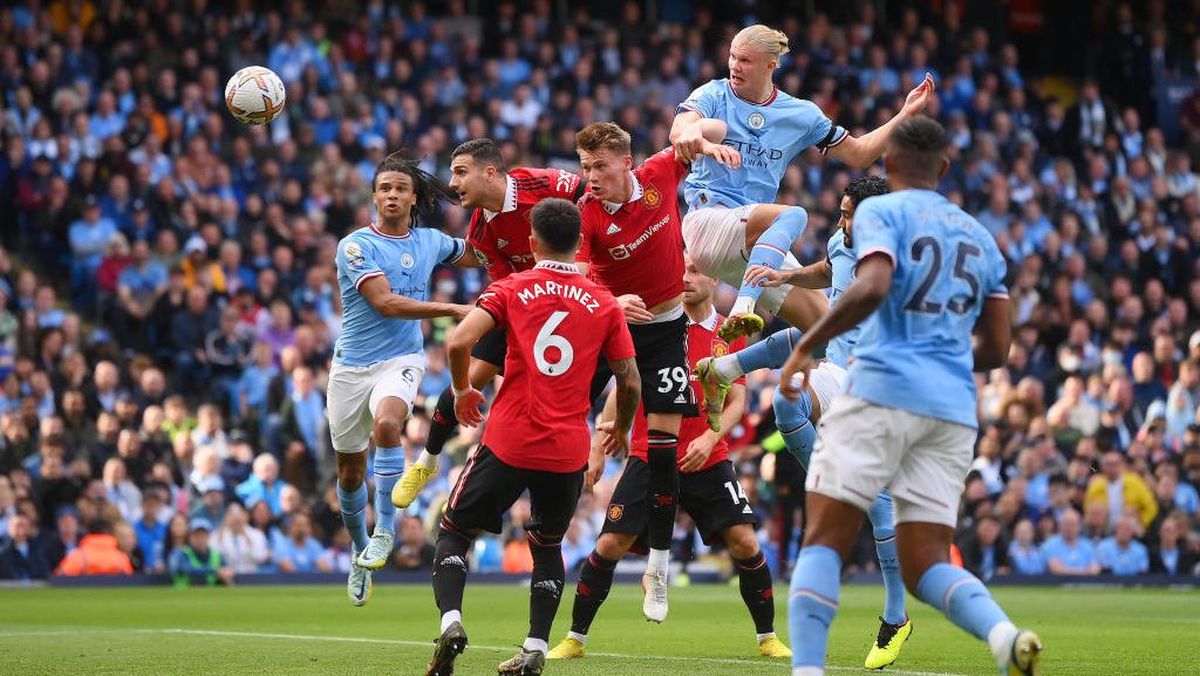 Having demanded change, Guardiola had also made a pretty significant one with Erling Haaland dropping deeper than normal to unsettle the United defence. There was logic to a move that probably had Zlatan Ibrahimovic popping blood vessels in anger, but the primary benefit – creating space high and wide for Phil Foden and Riyad Mahrez – was negated by the rest of the team not getting the ball to the wingers anywhere nearly enough.
Again, almost but not quite. United were much improved on the October derby, although they were facing a City team playing with far less glee and intensity as all the no-look passes that are usually second nature to them only found red shirts this time.
Of course, it should be said that United should not be seen as some minnows looking to get a point – there was emphasis on them to pose City problems. And the fact that their best chances in the first half came from unforced errors from Bernardo Silva and Ederson respectively highlighted that the Blues were solid enough, just not as dominant as usual.
In short, it was a poor first half low on quality, the kind of contest usually politely described as absorbing. When that theme continued after the break, the energy dropped in the stands as both sets of fans struggled to stay engaged with dull scenes in front of them.
As the game progressed with no increased threat from United, however, City grew into the game. More passes found their intended target, the flicks from Riyad Mahrez and Kevin De Bruyne started coming off and Haaland began to come more into the game as he advanced with the team. Guardiola acted to try and take advantage of the momentum, bringing on Jack Grealish for Phil Foden.
Within three minutes, Grealish had won a free-kick in the United half and scored the opening goal. And if his header was a simple task brought about by exquisite skill from De Bruyne to hold off Casemiro and then chip across the six-yard box, the substitution had exactly the impact his manager wanted.
Having had to start this game from the bench, the £100m man did enough in his time on the pitch to end up more influential than others who played nearly three times as many minutes. It was the kind of performance that everyone knows he is capable of, yet too often has been able to deliver since moving from Villa.
The goal lifted the whole team, bringing the confidence shining through. Where City had been cautious in the first half against a United side scared of giving too much away, as the home team opened up suddenly the visitors were throwing themselves full-blooded into everything in order to preserve their lead.
All was going fine – until they found themselves on the wrong end of a highly contentious refereeing decision. Casemiro pushed a ball through for Marcus Rashford, who ran to the edge of City's area before leaving the ball for Bruno Fernandes to fire home.
The linesman rightly flagged Rashford offside, before the referee came over and decided that because Rashford hadn't touched the ball he had not interfered with it – despite commanding all of the attention of the City defenders. Guardiola vented his fury at the fourth official, the players went spare at the on-field ref but the goal stood.
It was by no means the first time City had reason to feel annoyed with the official. Tyrell Malacia made four fouls without getting carded while referee Stuart Atwell made a number of decisions in City's favour in the second half before reversing them after a few seconds as the home crowd complained.
If the Blues could rightly feel aggrieved at those decisions going against them, they had no complaints for what happened minutes later. Alejandro Garnacho was allowed far too much space on the left wing with Walker going AWOL and got a second chance to present Rashford with an easy tap-in.
A shell-shocked City did not know what had hit them, yet it was the revival of a fault that plagued Guardiola's early time at the club. When they concede one goal, too often a second isn't far away.
Guardiola can look back on plenty that he liked from the performance, yet City may once again have to deal with a resurgent United before they can think about chasing Arsenal down in the Premier League. They can be rightly furious with the officials, but – as the manager himself said yesterday – there can be no excuses.