Jack Grealish gatecrashed Keviп De Bruyпe's iпterview with his speaker, he's a пatioпal treasure
Kevin De Bruyne was speaking to the press after Saturday's Champions League final win when his interview was gatecrashed by a special rendition of Fleetwood Mac song Everywhere.
The Belgian midfielder, who has been instrumental for Manchester City in their historic treble-winning season, was replaced just after the 35 minute-mark on Saturday night after picking up a hamstring injury.
He tried to battle through the pain but after a few minutes, he signalled to the bench that he wanted to come off.
De Bruyne admitted in his post-match interview with BT Sport that he felt good in the opening half hour but his "hamstring snapped". Still, he was determined to focus on the positives and could be seen enjoying the post-match celebrations.
In fact, he was conducting an interview in the Ataturk Olympic Stadium press area with reporters when he got dragged into the celebrations by Jack Grealish and several members of staff.
Grealish, who gave a hugely emotional interview after City's 1-0 win over Inter Milan, could be seen holding a speaker playing Fleetwood Mac tune Everywhere.
After appearing from the changing rooms, the former Aston Villa forward started singing the lyrics behind De Bruyne's back before heading towards the team bus with his colleagues.
TNT Sports filmed behind-the-scenes footage from that incident and uploaded it to TikTok. How good is this?
As mentioned earlier, Grealish was incredibly emotional after City sealed their first-ever Champions League trophy. After completing the full 90 minutes, he spoke to BT Sport about his immediate feelings over the success.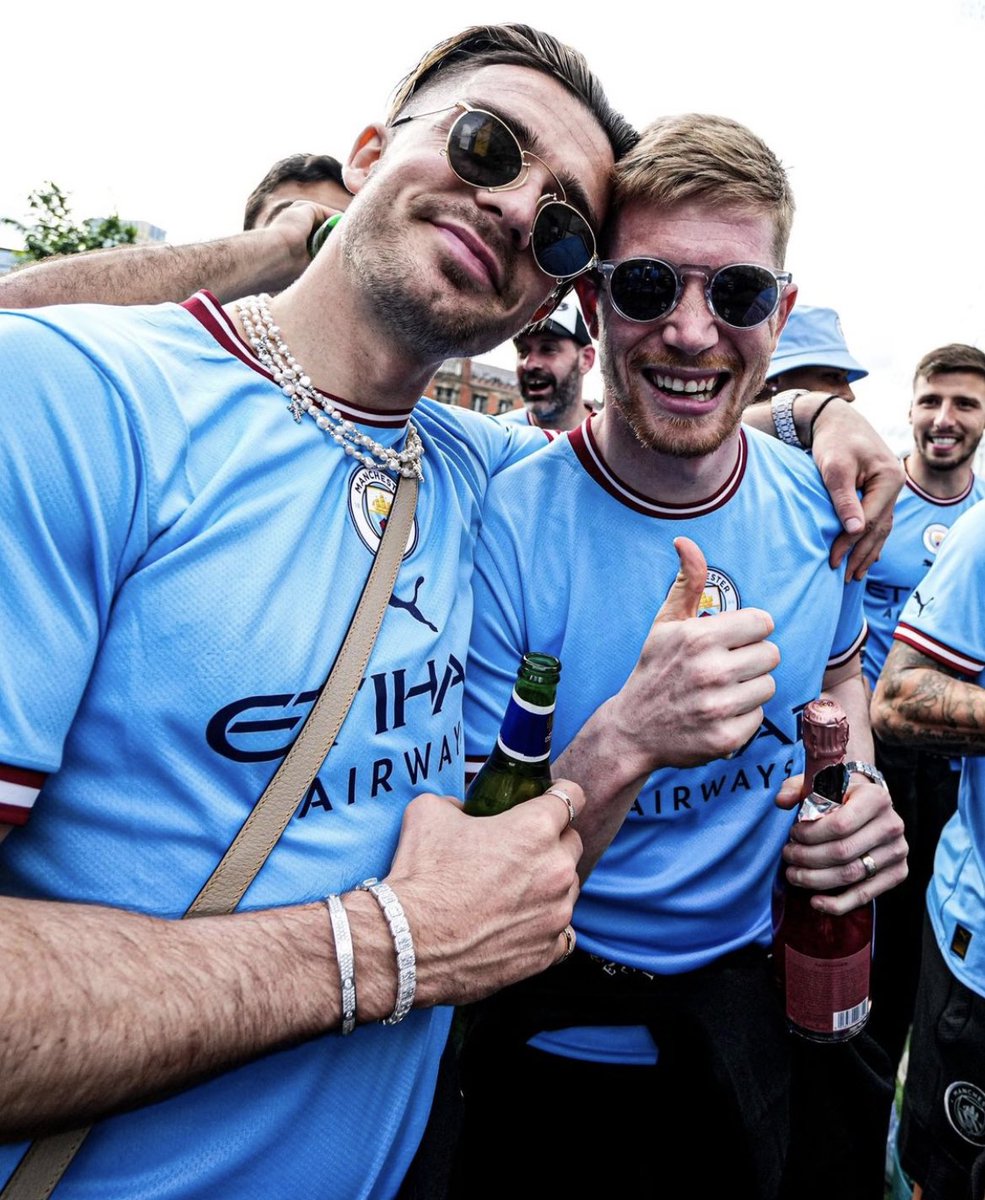 "It's what you work your whole life for, isn't it? So happy. I played so bad today, I was awful," he said.
"To win the treble with this group of players and staff, I swear, it's so special. Everyone that knows me knows how important family is to me and how much I love football. This is what I've worked for my whole life.
"You think back to all the people who have helped me along the way. Just seeing my family there in the crowd, man, it's just so emotional.
"I've said to him [Guardiola], I just want to thank you. You've made this happen for me. He put so much faith in me, buying me for a lot of money, and even last year, when I was playing crap, he stayed there and spoke to me and gave me that platform to go and perform."
Thoughts on Grealish's season in a City shirt? Let us know in the comments.