Striker Erling Haaland's goal not only helped Man City win Arsenal's Premier League table but also helped him set a new record 92 years in English football.
Erling Haaland helped Man City open the scoring after only 3 minutes of rolling the ball. The Norwegian striker successfully completed the penalty that The Citizens were awarded after teammate Julian Alvarez was fouled in the box.
Erling Haaland opened the scoring for Man City on the penalty spot after only 3 minutes of rolling the ball
This was Erling Haaland's 50th goal for Man City in all competitions this season, making him the first player to play in the top flight in England (Premier League / former First Division) to touch 50 goals in a season since 1931 until now.
Erling Haaland's goal on the penalty spot also helped him equal the record of most goals scored in a Premier League season by legends Alan Shearer (scored 34 goals for Blackburn Rovers in 1995) and Andy Cole (scored 34 goals). for Man Utd in 1993).
With Man City still six games to go, Alan Shearer and Andy Cole's record will almost certainly be broken by Erling Haaland as the Norwegian shows no signs of stopping in his goal . any opponent in the Premier League.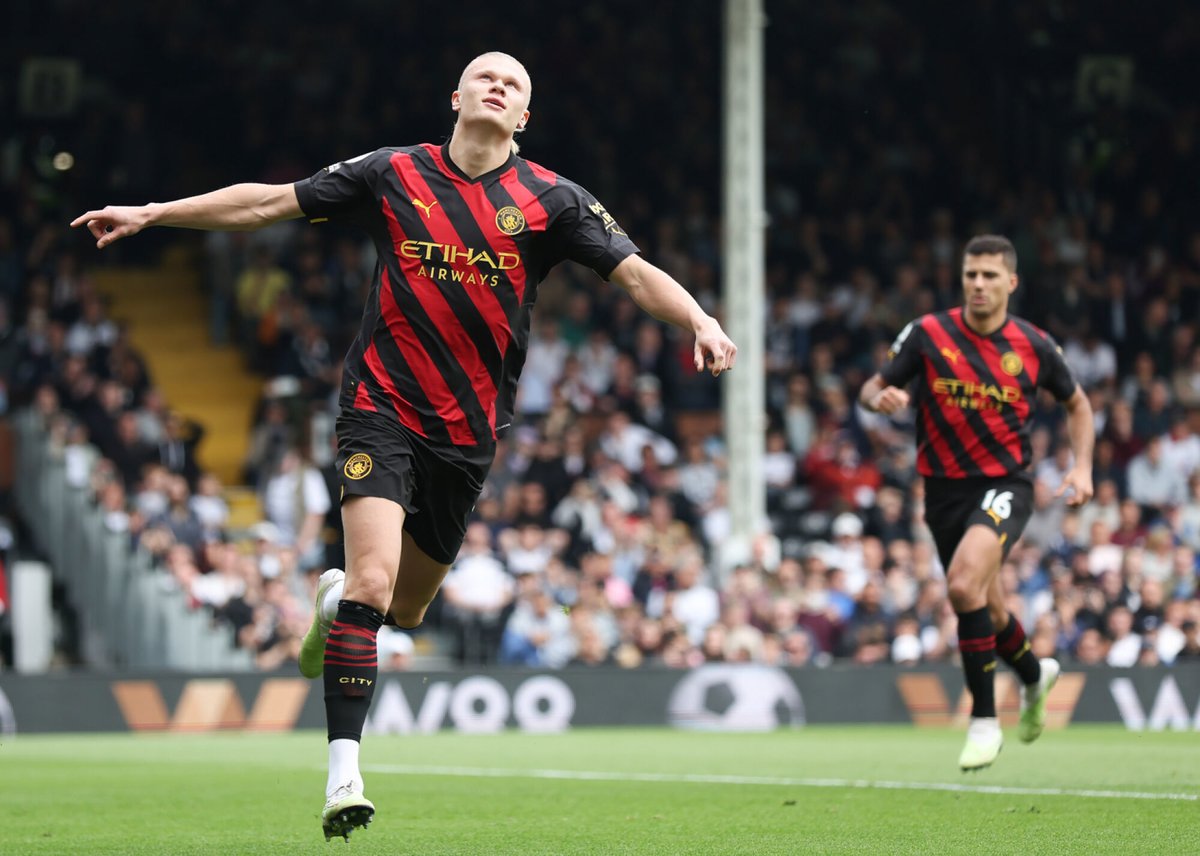 Erling Haaland became the first player in the Premier League to score 50 goals in a single season
Notably, in the 50 goals Haaland has scored this season, the 22-year-old striker has impressed when he scored 4 hat-tricks in the Premier League, a hat-trick in the FA Cup and 5 goals against RB Leipzig in the Champions League.
The Norwegian is Europe's top goalscorer in the top five leagues, ahead of Victor Osimhen at Napoli, Kylian Mbappe at PSG and Harry Kane at Spurs.
Haaland is considered a "scoring machine" to help Man City stand the chance to win a historic treble this season, as well as the Premier League title for the third time in a row.
With a 2-1 victory over Fulham, Man City has now surpassed Arsenal to take the top spot with one point more than the "Gunners" but are still playing one game less.