From charming castles to picturesque countrysides, the United Kingdom offers a variety of incredible vacation experiences. For equestrians, the UK has some fantastic horse riding holidays with amazing experiences you can't get anywhere else.
Whether you want to ride on sandy coastline beaches or explore historic castles, you can find the horse vacation of your dreams in the UK.
No matter your experience as a rider, there are vacation packages available to suit your needs. You will get to explore breathtaking landscapes from atop a horse and visit iconic historical sites.
Get ready to saddle up for a vacation of a lifetime with a horse riding holiday in the UK.
1. Thirlestane Castle Ride – Lauder, Scotland
Enjoy the beautiful and charming Scottish countryside with Globetrotting's Thirlestane Castle Ride. During your holiday, you will not only ride along the grounds of a stunning 16th-century castle but also stay in it as well.
The holiday is suitable for riders of all levels that are comfortable riding in an English all-purpose saddle. Riders are split into groups based on experience, with the opportunity for confident riders to canter across scenic moors. The holiday lasts seven days and includes six days of riding with a shorter three-day vacation also available.
During your holiday, you will stay in the gorgeous South Wing of the castle where you will have classic but contemporary decorations and stellar views. Gourmet meals are served at the castle's portrait-lined State Dining Room. When not out riding, you can enjoy a tour of the castle and learn all about its fascinating history.
2. Trans Wales Trail – Wales
Enjoy a fast-paced, action-packed riding getaway with Globetrotting's Trans Wales Trail. During your trip, you will discover some of Wale's most breathtaking landscapes, from The Black Mountains to coastal beaches.
With plenty of galloping across various terrains, the holiday is designated for experienced riders. Each rider will be mounted on a hardy A-grade Welsh Cob as they ride across country roads and marshes. The vacation lasts seven days, with six full days of riding.
As you make your way across various towns you will stay at 3-star local hotels, including a 17th Century Welsh Longhouse, a boutique country house hotel, and a local pub. All meals are provided during your holiday to keep you fueled for hours in the saddle.
3. Discover Cornwall Ride – Cornwall, England
Join in on the exciting Discover Cornwall Ride with Equitours. Centered in the heart of Bodmin Moor, you will explore wild open moorland, rocky tors, valleys, and streams, all rooted in thousands of years worth of history.
With plenty of action-packed riding across various terrains, the riding holiday is best suited for intermediate to advanced riders. You will explore the English countryside from atop one of the native horse and pony breeds from the UK.
While venturing through the moor terrain, you will get a chance to see some of England's most adorable wildlife.
As you gallop along the coastline you will have the chance to view Celtic ruins and unique architecture. During your holiday, you will stay in charming cottages that have been renovated with modern decor. Most breakfasts and lunches will be served in the cottages with dinners being enjoyed at local pubs
4. Cattle Drive on Dartmoor – Dartmoor, England
Join Dartmoor Riding Holidays & Cattle Drives for the only cattle drive vacation in the UK. Enjoy an authentic cowboy experience as you ride Quarter horses across the picturesque countryside.
As you move the cattle to new pastures, you will ride across various terrains including woodlands, valleys, hills, and steep inclines. You can choose to join a three or six-night cattle drive holiday. The exact cattle drive you follow will vary by the time of year.
Accommodations include local hotels or guests can choose to sleep under the stars with the glamping option. Breakfast is served at the inn or farm and lunch is enjoyed at the farm, packed for the drive, or at local pubs.
Dartmoor Riding Holidays & Cattle Drives also offers other holidays, including the Dartmoor Crossing Ride where you ride across Dartmoor for eight days, traveling from inn to inn.
5. Silver John Trail – Wales
For those looking for a shorter riding holiday, Free-Rein's Silver John Trail is the way to go. You will get to explore the splendid countryside along the England/Wales border in the Wye Valley.
Each day you will spend six to seven hours riding along grassy tracks, rolling hills, moorlands, and bridleways, enjoying some of the most serene views in the UK. As you canter along you will enjoy the peaceful and beautiful Black Mountains and Radnor Hills.
During your three-day vacation, you will not only get to ride but also enjoy tea and learn the history of the land.
You will be lodging in quaint family-run establishments. All meals on the trip are homemade, with many of them coming from locally sourced ingredients. Longer riding holidays are also available in Wales with Free-Rein.
6. Riding in the Lake District – England
Enjoy a relaxing holiday in the Lake District with Equestrian Escapes. The vacation is perfect for those looking for a refreshing getaway in nature.
Riding itineraries are tailored to meet the abilities of riders of all levels. During your riding holiday, you will enjoy views of the breathtakingly beautiful Winster and Lyth valleys. In addition to hacks in the country, you can also take lessons on hunters, show cobs, a retired competitive dressage horse, or a wide selection of ponies.
Guests can choose between two to seven-day vacations, with plenty of time in the saddle no matter which option you select. When not riding, guests can enjoy fishing, cycling, and walking.
You will be staying at the charming 17th century Lakeland farmhouse at Witherslack Hall Farm where you will enjoy delicious breakfasts every day.
7. Bodmin Poldark Trail – Bodmin, England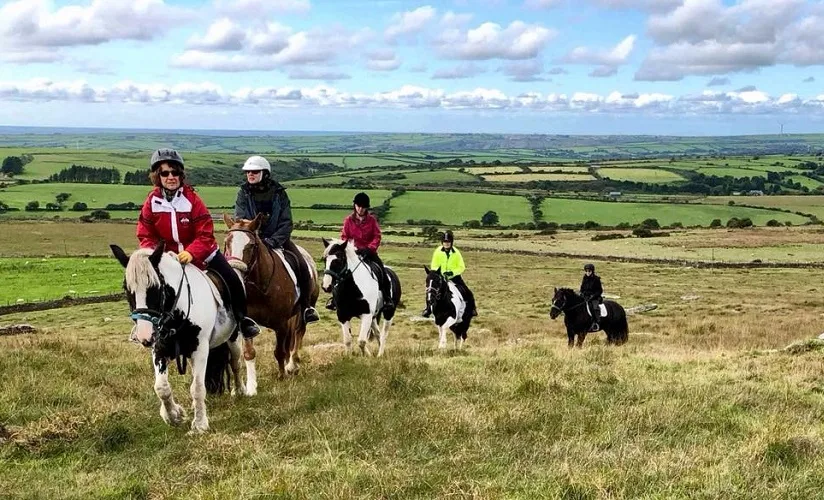 Enjoy riding through the historic ancient Celtic kingdom of Cornwall where you will view some of the most stunning landscapes in southwest England. You will enjoy riding along miles of various terrains from moorlands to tors.
During your riding holiday, you will view some of the filming locations for the hit TV series Poldark. Along with filming locations, you will also visit ancient settlements, hut circles, burial chambers, tea shops, fishing ports, Tintagel- home to the fabled King Arthur's castle, and more. The holiday is for intermediate to advanced riders, as you will have a chance to gallop in the countryside.
During your seven-day holiday, you will stay at one of the riding center's cozy cottages. Breakfast is served every day and two lunches are also included in the stay. Dinners can be enjoyed at local pubs and inns.
8. Pine Lodge Riding on Exmoor – Dulverton, England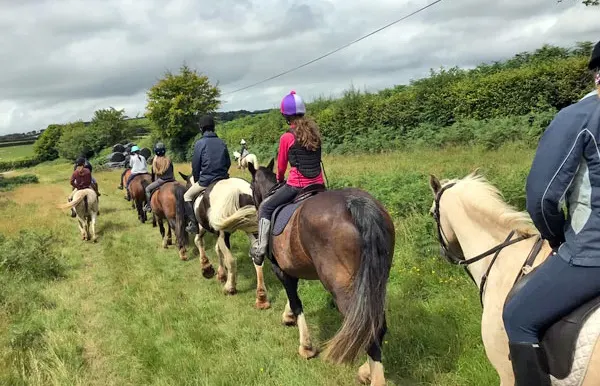 Whether you are wanting a romantic getaway or looking for the ultimate family vacation, Pine Lodge Riding has you covered. They even offer riding holidays exclusively for children for an experience your kid won't forget.
During your stay, you can enjoy the beautiful Exmoor views as you ride across various terrains from ancient beech forests to river banks. You will also have the opportunity to join in on a safari ride where you will enjoy a traditional English meal at a historic inn after a day of riding across the countryside. Riders of all skill levels can enjoy a stay at Pine Lodge with plenty of time spent in the saddle.
The children's riding holidays last five nights and adult and family vacations can be tailored to suit your stay. Accommodations are available at the charming, rustic cottages at the stables that provide an assortment of breakfast options.
9. Game of Thrones Riding Experience – Northern Ireland
Experience the thrill of the worldwide sensation Game of Thrones first-hand as you book a vacation with Bespoke Equestrian. Fans of the popular book and TV series can visit some of the most iconic filming locations from the show with the option to dress up for some incredible photo opportunities.
As you ride along the Causeway Coast you will visit Kings Road, Slavers Bay, Lordsport Harbour, Dragonstone, Saltpans, Stormlands, Dothraki Sea, Dragonstine, and more from the show.
From atop of a horse you will be able to see where Brienne beat Ser Loras and where Drogon was reunited with Dany, along with several other locations of memorable scenes. As you ride from site to site you can soak in the serene beaches and gorgeous coastline.
One, two, and three-day Game of Thrones riding experiences are available. Comfortable and charming accommodation is included with the trip with tea and scones served upon arrival. Whether you are an avid Game of Thrones fan or not, you will have a blast as you enjoy top-quality coastal horseback riding.
10. Castles, Causeway Coast and Countryside – Northern Ireland
Enjoy six days of action-packed adventure as you experience the best Northern Ireland has to offer. Ride along white sandy beaches, rugged coastlines, magnificent mountainous trails, and enchanting countryside.
On your vacation with Bespoke Equestrian, you will visit iconic stops along the Causeway Coastal. During your riding holiday, you will visit five beaches, Dunluce Castle, Giant's Causeway, St Aidan's Church, Game of Thrones filming locations, and much more. Each day you will spend between five to seven hours riding making this trip ideal for intermediate and advanced riders.
Your five-day vacation includes cozy lodging at local B&Bs and four lunches. With the chance to gallop along brilliant beaches, you will create memories that will last a lifetime. Bespoke Equestrian also offers several other incredible equestrian vacations in Northern Ireland.
11. Chesire Horses and Spa – Cheshire, England
Relax and unwind with this refreshing Chesire Horses and Spa holiday with Equestrian Escapes. Ride across England's horse country as you venture through farmland and scenic forests.
During your holiday, you can enjoy hacks along quiet bridleways and country lanes for a peaceful outing. After an enjoyable ride, you can relax at the spa which includes a pool, sauna, steam room, and ice room. You can also enjoy two riding lessons, with different packages available for riders of all skill levels.
The standard package is two nights, however, you can choose to stay up to 14 days. You will stay at a 4-star country hotel with luxury accommodations for a refreshing getaway. Breakfast is included daily with additional dining options available at the hotel and local pub.
12. Scottish Equestrian Centre – Lanark, Scotland
Horse lovers of all ages will enjoy a holiday at the Scottish Equestrian Centre. Whether you are a beginner or an experienced rider, you will have a memorable experience on your riding vacation.
Scottish Equestrian Centre offers riding holiday programs for both adults and kids. The holidays are relaxing, fun, flexible, and instructional, with the ability to tailor to your needs. You can ride for up to five hours every day, with the chance to visit iconic Scottish landmarks including Falls of Clyde, Traquair Castle, Bowhill Estate, and Newark Castle.
During your stay, you will be lodged in the luxury accommodations of the Scottish Equestrian Hotel. Meals are served at the Bistro Dining Room, with some lunches enjoyed while out riding. When not in the saddle, guests can also enjoy hiking, biking, and golfing.
13. Wilder Ways Extreme Adventure – Campbeltown, Scotland
For advanced riders looking for an epic getaway, Wilder Ways Extreme Adventure is just for you. You will be able to try your hand at new activities while experiencing some of Scotland's most magnificent views.
Over the course of eight days, you will get the chance to gallop along sandy beaches, traverse mountain terrains, and enjoy a day at sea. You will get the opportunity to grow as a rider as you practice both show jumping and cross-country jumping. There is even the unique opportunity to learn horseback archery, allowing you to channel your inner warrior.
At the end of the day, you can relax in the charming Scottish farmhouse which you will be calling home for the week. Enjoy dining on locally sourced food that will keep you energized for hours of adventure. Wilder Ways also offer Wilderness Journeys suitable to riders of all levels.
14. Outlander Ride – Scotland
Explore some of the most iconic locations from the popular book series and beloved TV show Outlander with Highlands Unbridled. Fall in love with Scotland as you ride in the footsteps of your favorite characters and experience the magic of Outlander first-hand.
You will ride across extraordinary Highland landscapes as you visit castles, Culloden Moor, Clava Cairns, and much more. Soak in breathtaking scenery as your gallop across the land the Frasers call home in the show.
Visit quintessential Outlander locations, including Doune Castle (Castle Leoch), Royal Mile (home to A. Malcolm's print shop), and Midhope Castle (Lallybroch).
The trip includes six days of incredible riding adventures and one or four days of sightseeing. Whether you are a fan of Outlander or have never seen this fantastic series, you won't want to miss out on this amazing trip. All meals are included as well as cozy accommodations along the way for an unforgettable experience.
15. Wild West Highlands Ride – Scotland
View the unrivaled beauty of the Scottish Highlands with Highlands Unbridled Wild West Highlands Ride. This is an incredible opportunity for experienced riders as you traverse different challenging terrains on your epic holiday adventure.
As you follow parts of the Great Glen Way you will experience iconic mountains, magical forests, and rolling hills. Across the seven days, you will enjoy six days of riding through locations such as Drumnadrochit, Fort Augustus, Dornie, and Torridon.
On your off day, you will get to explore the enchanting Isle of Skye. On your journey across Scotland, you will get the chance to see castles, waterfalls, lochs, and much more.
During your riding holiday, you will stay in quaint accommodations and enjoy hearty meals. This is an amazing opportunity to view the diverse and breathtaking countryside of Scotland from the back of a horse. Highlands Unbridled also offers several other incredible horse holidays throughout Scotland.